Geography
Geography
Geography Curriculum Intent
As a department our aim is to develop geographers who have a curiosity for making sense of the complexity of the world. They will have a core geographical knowledge, which they will be able to apply to make sense of complex issues, based upon a variety of data, and come to informed decisions. Scholars will recognise the impact of their actions at a variety of scales, and remember the importance of community, and their roles, and responsibilities within them. They will be keen to engage and explore their locality and the wider world. We want Scholars to be geographically literate for life.
We wish to expose Scholars to the richness and depth of the subject by studying a variety of topic areas and geographical themes underpinned by the threshold concepts of the subject. The curriculum has been organised to deepen Scholars' knowledge and understanding of both near and far places, physical and human processes, and contemporary issues. Within each Achievement Cycle through Key Stage 1 to 5, Scholars' will strategically recall and build upon their prior geographical knowledge, through deliberately sequenced learning, enabling them to apply their understanding to unique contexts and circumstances.
Each Achievement Cycle is used as an opportunity to develop geographical skills, which progress in difficulty over the subsequent years of learning. This will enable Scholars to develop mastery and an understanding of the disciplinary approach to geography. We have deliberately planned to build Scholars' confidence in the analysis, manipulation, and presentation of data, supporting their core ability within Mathematics.
Within lessons we explicitly teach Scholars the key geographical terminology to enable them to access challenging texts and sources which will deepen their understanding. We consider carefully the texts and sources we use to further deepen their knowledge by exploring different viewpoints and contexts. We deliberately plan to develop students' oracy, incorporating opportunities to discuss geographical understanding and issues.
Within lessons we refer to the work that 'geographers' do, we want Scholars to be aware of the opportunities which the study of the subject can open to them, including further study and potential careers, hence widening their pathways in the future.
Subject Progression Map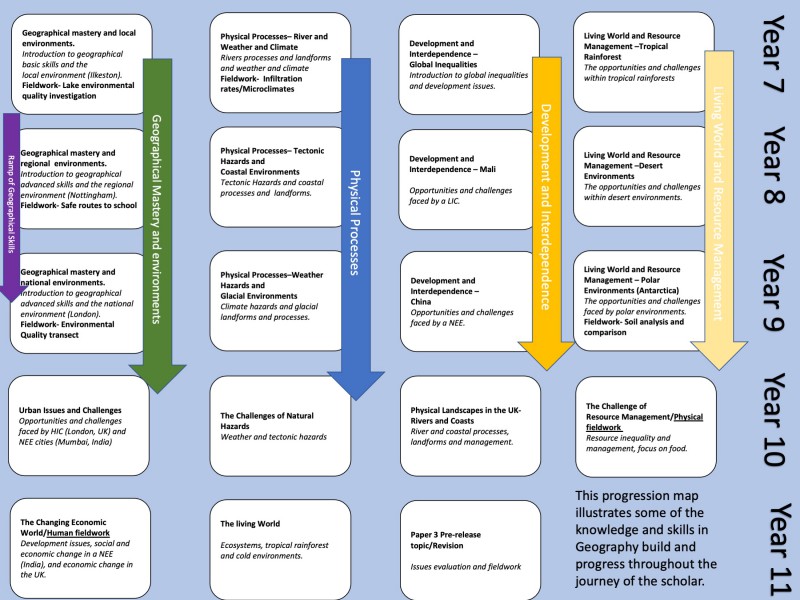 AC Overview
AC Overview
Medium Term Planning
MTP AC1
MTP AC2
MTP AC3
MTP AC4
August 2022
| M | T | W | T | F | WE |
| --- | --- | --- | --- | --- | --- |
| 1 | 2 | 3 | 4 | 5 | 6 |
| 8 | 9 | 10 | 11 | 12 | 13 |
| 15 | 16 | 17 | 18 | 19 | 20 |
| 22 | 23 | 24 | 25 | 26 | 27 |
| 29 | 30 | 31 | | | |