Science
Science
Science Curriculum Intent
In science we aim to support intent of the academy in the following ways.:
Knowledge and academics, Science is one of the oldest and most important academic disciplines and covers a wide variety of subjects. It is also one of the fundamental parts of the term STEM, used to refer to science, technology, engineering and mathematics. Human progress throughout history has largely rested on advances in science. From our knowledge of gravity to cutting-edge medicines, students of science have shaped our modern world. The work we do at Kirk Hallam ensures scholars are academically prepared for which ever career path they chose. This is done by keeping the core knowledge needed for success as the centre of our focus whilst looking at where we can enhance this core knowledge to give context and drive passion for the subject. This gives us a truly ambitious curriculum.
Culture, our curriculum is designed with a clear purpose in mind. Teachers deliver their best lessons, and scholars make the most progress when they have a clear idea of what is being taught, and why. The science curriculum progresses through the year groups from building blocks, through applications onto synthesis. Resulting in a strong understanding of scientific processes and developments.
The curriculum also emphasises the idea of respect for individuals, their choices and their environment as well as the importance of the work of scientists over the years. Providing opportunities to see and evaluate data on the importance of respect for our environment.
Science is all about learning new ideas and skills. As well as following a strong knowledge-based curriculum, scholars are taught the importance of approaching the solution of problems in a variety of contexts. Science is often viewed as one of the most rigorous of academic subjects, the way we deliver our course ensures that we produce intelligent and inquisitive scholars.
It is essential that scholars show determination, science is a challenging subject. Scholars will make mistakes in the course of their learning and will need to learn from these mistakes if they are to succeed. Our science teachers identify common misconceptions for every concept taught and ensure that these are addressed during their delivery ensuring a strong progress towards excellent outcomes is made.
Our science team is relentless in its pursuit of excellence, we are constantly evaluating our practice and curriculum to ensure that learning is always excellent. We have the same expectation of excellence for our scholars, they should show a positive attitude, engage with the works and continually push themselves in every science lesson.
Reading, vocabulary and oracy, Isaac Newton is one of the most influential scientists of all time, his work has laid the foundations for a huge portion of the work we do in science today. One of his most memorable quotes is "If I have seen further than others, it is by standing on the shoulders of giants." He was referencing the idea that all the work he has done, the excellence he achieved, has been because he was able to build upon the work of other great scientists by reading the work they had produced. As students of science, reading is essential to be able to access the sum total of human knowledge, we cannot succeed without being able to read scientific work and interpret the information within. With this in mind reading is embedded in our curriculum. Activities are designed to improve reading fluency and reading for understanding.
Key vocabulary and concepts are addressed up front before reading activities to ensure that activities are as impactful as possible. Our aim is to produce individuals capable of communicating like scientists using highly technical language with clarity, precision and fluency. This is to be evidenced in both their written work and in discussions. Activities like turn-and-talk as well as pushing scholars to expand on their answers support these strong habits of discussion.
Our vision for science is to deliver a thoughtful and engaging curriculum that will provide excellent learning opportunities. Giving clear and consistent instruction, assessing work and allowing scholars to improve at all levels. This high-quality science education will provide the knowledge that lays the foundations for understanding of the world, provide explanations using evidence and developing a sense of excitement and curiosity about natural phenomena. At the conclusion of their academy career, our scholars will be capable of applying their scientific knowledge to contemporary issues, making connections between scientific disciplines, and pursuing post-secondary education or careers in the fields of science and engineering.
Implementation.
As scholars progress through each achievement cycle, they will begin in year 7 with the building blocks of fundamental science; particles, reactions, cells and gases.
In year 8 scholars move on to the applications of everyday science; forces, materials, electricity and magnetism.
Year 9 builds on these ideas by synthesising and uniting scientific ideas; energy, atmosphere, health and ecology.
The understanding of scientific processes and developments are addressed in year 10 where scholars look at nuclear radiation, models of the atom, cell processes, bonding circuits, natural resources, chemical changes homeostasis, rate of reaction and quantitative chemistry.
The scholars' journey culminates in year 11 by looking at advanced scientific applications advanced forces and motion, organic chemistry, organisation, inheritance and evolution.
This journey is one of mastery, ensuring that understanding is checked at every step. We will not move on until we are confident that students have learnt each concept, not just that we have taught it. Each lesson delivered will contain high-quality direct instruction with a focus on delivering key knowledge. Scholars will use this to complete substantial independent practice, teachers check this for understanding giving incisive, live feedback allowing scholars to reflect on and improve their work.
The crucial knowledge our Scholars will acquire will enable them to become more rounded and employable individuals. Opening the door for those who chose to study at university by allowing them to leave with excellent outcomes, improved analytical skills, the ability to solve a range of problems in a range of contexts.
Science will enhance the cultural capital of scholars by providing every scholar with the essential knowledge that need to prepare them for their future success. We aim ensure that our scholars find science interesting and useful for their future success. We push them to be scientifically literate, talking about science in everyday life. We also support them to participate in out of school learning, watching, reading or listening to scientific media.
Subject Progression Map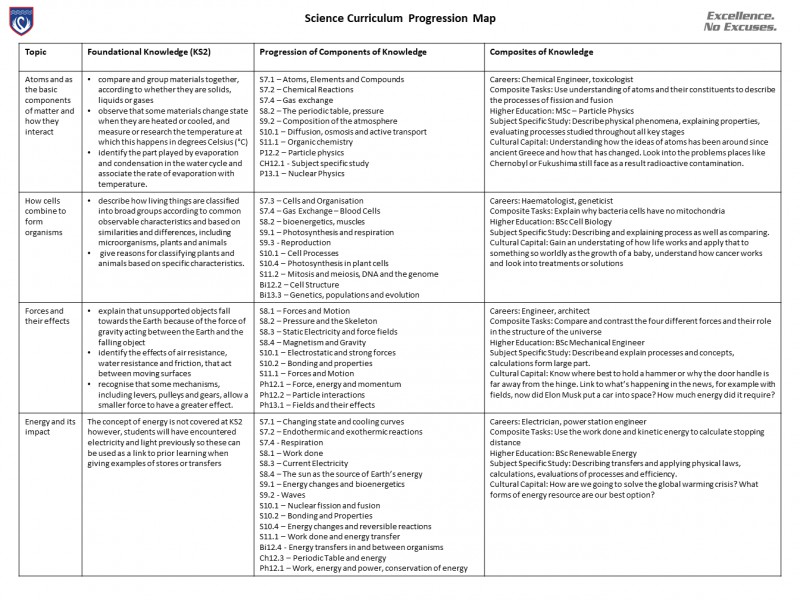 AC Overview
Medium Term Plans
August 2022
| M | T | W | T | F | WE |
| --- | --- | --- | --- | --- | --- |
| 1 | 2 | 3 | 4 | 5 | 6 |
| 8 | 9 | 10 | 11 | 12 | 13 |
| 15 | 16 | 17 | 18 | 19 | 20 |
| 22 | 23 | 24 | 25 | 26 | 27 |
| 29 | 30 | 31 | | | |