Welcome to
Kirk Hallam Community Academy
Kirk Hallam Community Academy is a medium-sized 11–18 academy, situated in the Erewash area of Derbyshire. Its students are drawn from both rural and urban areas. The academy admits students into Year 7 from 15 local primary schools.
"We are unashamedly ambitious for all our pupils and believe that the development of the whole child is critical for their future success. A pupil's strength of character goes hand in hand with academic achievement and we believe that learning should be a transformational experience for every child. Our carefully planned curriculum, enrichment programme and high-quality pastoral care provide a wealth of opportunities for all pupils to reach their potential.

Just like the pupils we serve, Kirk Hallam Community Academy is on a journey to be the very best school it can be. This is a continuous process, and our child centred approach and unwavering pursuit of excellence constantly drives us forward.

Thank you for taking the time visit our website, and we would be delighted to meet you and discuss our fantastic school in person."

Chris Turner BA (Hons), Cert Ed, NPQHHead Teacher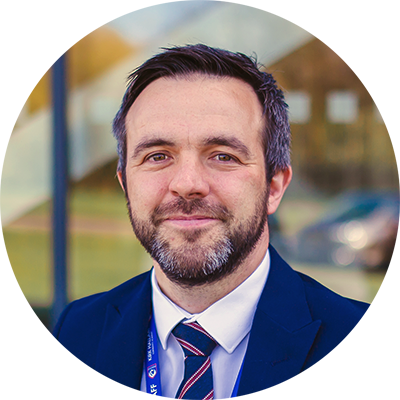 Our parents say...
"Efficiency and frequency of assessments are impressive and just what scholars need to prepare them for exams."
"Expectations and standards are what the school needed – my child is now receiving the education they deserve."
"Our child has settled well into Sixth Form. We are so pleased they received the grades they needed from lower school, and we are very grateful for everything the school has done."
"I just wanted to thank you for all the support you have given my child over the years. They often say if it wasn't for the staff at Kirk Hallam, they wouldn't have the dream job they do today."
"Thank you for your time, effort and positivity."
"Things changed significantly for the better upon the most recent change of appointments, with an almost immediate impact."
"Communication is always positive – teachers have called to congratulate my child on their efforts and achievements. On one occasion, when we had a minor issue with another scholar, the outcome was still positive because of the approach and supportive and proactive attitude of staff in wanting to work together to find a solution."
"I look forward to my weekly call from Alternative Curriculum, it's the highlight of my week."
"It's great to hear that my son is doing well, its lovely to have so many positive calls home!"
"Both of my children have settled in so well at Kirk Hallam and are happy to come to school each day."
"School is always proactive. If we've had an issue, it has always been dealt with, sometimes before I even knew there was one."
"The support from school over the last year has been outstanding!"
"The Animal Care department and onsite farm are amazing and a real credit to the school."
"Staff are always helpful and quick to respond to queries in a positive and proactive manner."
Previous
Next
We believe that schools should belong to their communities.
Kirk Hallam has a long and proud tradition as an important part of its community. We will all be working hard to ensure that all stakeholders have every reason to be proud of their local school.
The academy is also the Hub school for the Erewash School Sports Partnership, which consists of 47 schools and colleges. The SSP has increased participation in high quality PE from 68% to 85%, achieved over 600 individual sporting qualifications, paid for £65,000 of playground markings and brought in a further £147,000 of funding for community projects.
It has also created a Young Leaders Academy of 80 students and provided coaching from 18 different professional development courses.
Latest News and Tweets