Year 7
Year 7
Our personal development offer to Year 7:
Year 7
RSHE
Families
Relationships
Keeping safe & happy
Intimate relationships
Online & media
SMSC
Subject areas deliver a range of opportunities for our students to develop awareness of these ideas
In Religious Education we explore the role of religious buildings. Jesus and the origins of Christianity and life as a Muslim in Britain today
In assemblies we will be looking at a range of ideas such as
Chinese New Year
LGBTQ+ History month
Holocaust Memorial Day
Christmas traditions
International women's days
Young carers action day
World poetry day
Earth hour
Autism awareness
Lifelong learning & Resilience
Skin cancer awareness
International friendship week
British Values
The four fundamental British values (listed below) are woven into our Personal Development and key to preparing our students for Modern Britain
Respecting the rule of law
Democracy
Individual liberty
Tolerance and respect of different religions and beliefs
Citizenship
We look at the following ideas
What does a Citizen do in the UK?
What liberties do citizens of the UK have?
What is our political system?
Is our royal family a positive influence?
What do the police do?
Why do people volunteer
Development of Character
PRIDE is woven into our Personal Development Curriculum
All aspects of what we learn are linked to PRIDE
Year groups track and record their character development linked to PRIDE
Economic understanding
We study the following elements:
Career choices and earnings
Different types of pay
Methods pf payment (cash, debit cards, credit cards)
Overdrafts and loans
Why are taxes important?
Who are entrepreneurs?
Wider opportunities
Theatre & drama club
Sports clubs
Sewing
Chess club
Law
Debate club
Cultural studies
Art
Student leadership
We have a range of opportunities for students to develop leadership opportunities in school
Subject diplomats
Form reps
Sports captains
Transition leaders
Tutor set reps
Year group forum
Well-being and mental health
This is delivered on a Wednesday as part of well-being Wednesday. We focus on the following:
Connect
Keep learning
Mindfulness
Keep active and take notice
Year 7 plan for the rest of the year: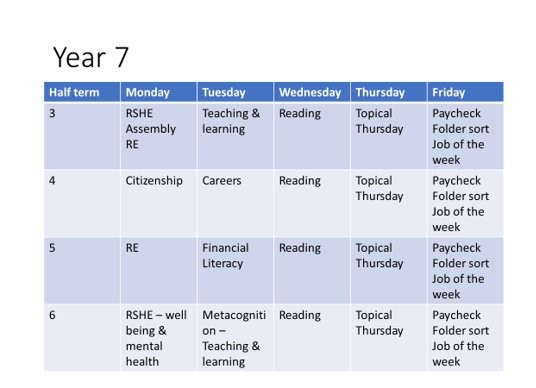 June 2022
| M | T | W | T | F | WE |
| --- | --- | --- | --- | --- | --- |
| | | 1 | 2 | 3 | 4 |
| 6 | 7 | 8 | 9 | 10 | 11 |
| 13 | 14 | 15 | 16 | 17 | 18 |
| 20 | 21 | 22 | 23 | 24 | 25 |
| 27 | 28 | 29 | 30 | | |